Mirage Online Classic
| | |
| --- | --- |
| Genre | MMORPG |
| Publisher | Retrelon Games, LLC |
| Release | 2019-12-24 |
| Platform | & Browser |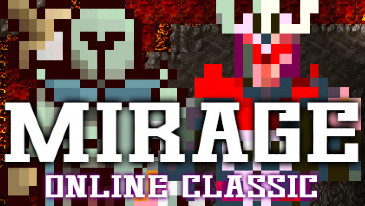 Mirage Online Classic is an online 2D browser game that takes you back to the early days of action PC games. Immerge in a world of dungeons and start your adventure by selecting one of the six classes and getting ready to fight monsters and loot. The game is free and also available to download on Steam, iOs, and Google Play. Feel free to play this blast from the past and provide your feedback to help shape the future of the game.
Minimum System Requirements
Browser gameplay
Since it is a browser-based game, it should work well on almost any PC with an up-to-date web browser.
You might still be able to play if you have outdated hardware or software, but your gaming experience might suffer. We advise using the most recent versions of Chrome, Firefox, or Microsoft Edge for the best gaming experience.
Windows download gameplay
| | |
| --- | --- |
| OS | Web Browser |
| Graphics | Integrated Card |
| Processor | Dual-Core 1.0 GHZ |
| Memory | 2 GB |
| Storage | 1 GB |
| Platform | Windows |