SAO's Legend
| | |
| --- | --- |
| Genre | MMORPG Anime Fantasy |
| Publisher | GameSprite |
| Release | 2016-06-24 |
| Platform | Browser based |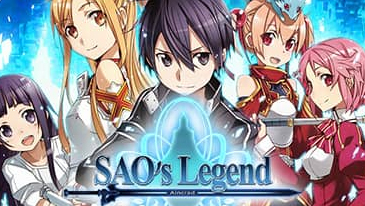 SAO's Legend is a free-to-play browser-based MMO based on the popular anime Sword Art Online. Fight in a vast world full of dungeons and quests and gear up to unlock the ultimate Divine Weapon which will give you the powers you need to win every future battle. In the meantime keep an eye out for someone special who could help you in your quests. SAO's Legend is a massively multiplayer online role-playing game (MMORPG) based on the Sword Art Online light novel and anime series. The game is set in the virtual world of Aincrad, where players are trapped within the game and must clear 100 floors of Aincrad to escape. In SAO's Legend, players create their own avatar and embark on quests, battle monsters, and team up with others to defeat bosses. The game features various classes such as swordsman, archer, and mage, each with unique abilities and strengths. In addition to the main story, there are various side quests, events, and activities for players to participate in. Players can also form groups and guilds, trade with other players, and engage in PvP combat. SAO's Legend aims to provide a rich and immersive MMORPG experience for fans of the Sword Art Online franchise and fans of MMORPGs in general.
Minimum System Requirements
Since it is a browser-based game, it should work well on almost any PC with an up-to-date web browser.
You might still be able to play if you have outdated hardware or software, but your gaming experience might suffer. We advise using the most recent versions of Chrome, Firefox, or Microsoft Edge for the best gaming experience.