Starbreak
| | |
| --- | --- |
| Genre | MMORPG |
| Publisher | Crunchy Games |
| Release | 2016-05-10 |
| Platform | & Browser |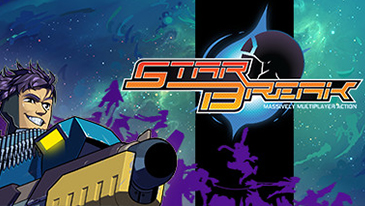 With the help of numerous other players, you can explore unusual sci-fi planets in StarBreak, where you can also engage in huge boss battles and slay legions of deadly aliens. A Roguelike MMORPG with MetroidVania-style platformer gameplay! Castlevania and Metroid fans will love this game! Starbreak is a free-to-play multiplayer action-adventure platformer game developed by Crunchy Games. The game is set in a universe where players control a group of heroes trying to survive in a dangerous and mysterious world. The game's graphics and art style are reminiscent of classic 2D platformers, with vibrant colors and pixelated graphics. Players can choose from different heroes, each with its unique abilities and weapons, ranging from swords to guns. The game features a procedurally generated world with different levels and challenges. Players must fight their way through hordes of enemies, dodge traps, and solve puzzles to progress through the game. Along the way, players can gather loot and upgrade their weapons and abilities to become more powerful. Starbreak's gameplay is designed to be challenging and cooperative, requiring players to work together to overcome obstacles and defeat bosses. The game's multiplayer mode allows players to team up with friends or strangers to explore the game's world and complete quests. Starbreak is an engaging and challenging action-adventure platformer that offers a range of customization options and gameplay mechanics. Its cooperative gameplay and procedurally generated levels make it a popular choice among fans of the genre.
Minimum System Requirements
Browser gameplay
Since it is a browser-based game, it should work well on almost any PC with an up-to-date web browser.
You might still be able to play if you have outdated hardware or software, but your gaming experience might suffer. We advise using the most recent versions of Chrome, Firefox, or Microsoft Edge for the best gaming experience.
Windows download gameplay
| | |
| --- | --- |
| OS | Windows Vista |
| Graphics | Intel HD Graphics 4000, OpenGL |
| Processor | 800 MHz |
| Memory | 512 MB |
| Storage | 512 MB |
| Platform | Windows |