Vampire Empire
| | |
| --- | --- |
| Genre | Strategy |
| Publisher | R2 Games |
| Release | 2019-11-07 |
| Platform | Browser based |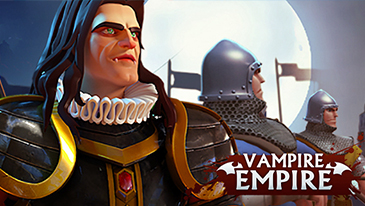 Vampire Empire is a multiplayer strategy game set in a dark and mysterious world of vampires, where players must lead their clan to dominance and glory. The game takes place in a Gothic, medieval setting, and players must navigate political intrigue, fight battles, and compete with other vampire clans to establish their dominance. Players start by selecting their clan and customizing their vampire character with unique skills, abilities, and attributes. They must then build their base and gather resources to train their army, construct defenses, and expand their territory. The game features a variety of gameplay modes, including single-player campaign missions, multiplayer battles, and cooperative raids. Players can also form alliances with other vampire clans, share resources, and coordinate their attacks to take down their enemies. Vampire Empire's graphics are detailed and atmospheric, with a focus on Gothic architecture and eerie landscapes. The game's soundtrack is similarly immersive, with haunting music and sound effects that add to the game's dark and mysterious atmosphere. Vampire Empire is a challenging and engaging strategy game that offers a unique take on the vampire genre. Its detailed graphics and immersive gameplay make it a popular choice among fans of strategy games, while its dark and mysterious setting provides a unique twist on the vampire genre.
Minimum System Requirements
Since it is a browser-based game, it should work well on almost any PC with an up-to-date web browser.
You might still be able to play if you have outdated hardware or software, but your gaming experience might suffer. We advise using the most recent versions of Chrome, Firefox, or Microsoft Edge for the best gaming experience.